There are a number of benefits of massage including:
The patient's circulation can be improved.
The massage can induce a soothing feeling as the nervous system responds better than any other body system to massage.
By stimulating the flow of lymph towards the lymph glands a massage can help eliminate waste and toxic products.
A massage can help the digestive process become more efficient as well.
The respiration system also responds to massage treatment by stimulating the circulation system.
Last but by no means least, massage obviously has many benefits for the muscular system by addressing various muscular conditions and injuries.
There are a number of specific injuries that can be either treated or rehabilitated with the aid of remedial massage: Back pain, spasm & disc problems, Stiff necks & frozen shoulders, Posture related aches & pains, Stress relief & sleep problems, Tension headaches & migraines, Circulation problems and Recovery from surgery. A summary of these is also shown on the diagram below: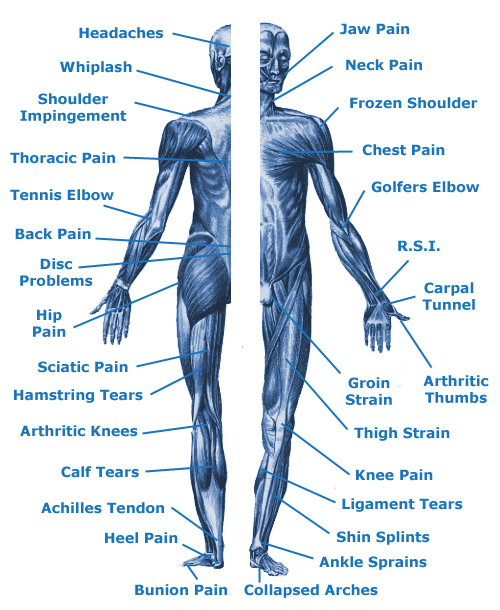 ---
If you have need for a physiotherapist, Stephen Oakley is your man. He came highly recommended & having gone today I can understand why. After an hour of massage I left far more mobile then when I arrived. I would definitely return if necessary.

Liane Rubens